---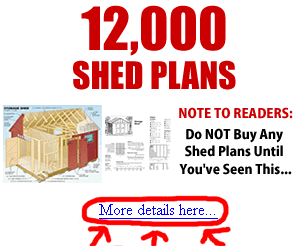 As a toolmaker by trade, and an avid fine furniture designer and builder in my limited spare time, I was curious about
"Ted's Woodworking 16,000 Plans and Projects"
I purchased Ted's woodworking package for $67.00.  Let me tell you what I found out…
Once I purchased the product, I was led to the Private Membership Area where five steps were given.
step 1:
Choose to purchase the DVD for $19.95 instead of downloading the large files.
comment:  Money well spent–the downloads are very time consuming.
You can also choose to upgrade to the Deluxe Edition for $37.00.
With the upgrade you receive:
More than 200 PDF Outdoor Shed Plans with easy to follow instructions
Ten DWG designer Shed Plans
"The Definitive Woodworking Reference Guide"
The Home 3D Shed Edition Software
comment:  I didn't buy the Deluxe Edition yet, but my past experience with "designer" plans has been that they offer helpful information for all aspects of a project.  
Step 2:
Choose from seven enormous download links with woodworking projects and PDF blueprints for every interest.  There are also more than 100 keywords for specific projects like doghouses, beds and chairs, to name a few.  Each keyword category can have 50 ideas within it.
comment:  The majority of plans that I have seen so far are dated back as far as the 1960's.  There are thousands of pages of classic plans to explore.  With this many plans, there has to be something for everyone!

Step 3:
Woodworking videos.  There are over 110 videos in 15 different categories such as benches, decks and sheds.
comment:  They wouldn't open.  I am waiting for a reply from "Ted."
Step 4:
Download AutoCad drawings and a DWG viewer if you need one.
You can also download Home 3-D Architect Software.
comment:  I will post my comments at a later date.

Step 5:
Download additional bonuses from My Shed Plans.
comment:  See reviews of the best Shed Plans that I wrote earlier.
Check back soon.  I plan to go through all of this downloaded material and search for some of the most  useful plans to pass along.  I'll give you my thoughts and advice to save you time and money.